Welcome to Our Lady of Mount Carmel
Our Lady of Mount Carmel is a Roman Catholic Church, part of the Archdiocese of Newark, located in the Marion section of Jersey City. In 1905, the parish was originally founded to service the Italian immigrants. Today it serves people of all ethnic backgrounds.

---
Happy New Year from Our Lady of Mount Carmel Parish Community
From our Pastor Rev. Pedro Repollet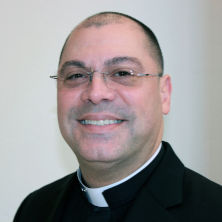 Year 2020 has surprised us all with many unexpected issues that we have never experienced before and after this long journey of suffering and pain we are still standing as who we really are : people of God !
Therefore that best place to gathered this evening is at the house of God and thank Him for always been here for us.
Tomorrow Friday we begin the year joyful and rejoicing in the great mystery of Holy Mary – Mother of God – let's gather around the table of the Lord at mass and welcome this year with Faith and hope that this will be a better year and let's trust in our intercessor per excellence Holy Mary Mother of God !
Schedule for Masses :
Thursday 12/31/20 : 5:00 pm English / 7:00 pm Spanish
Friday 1/1/2021 : 11:00 am English / 12:30 pm Spanish