Welcome to Our Lady of Mount Carmel
Our Lady of Mount Carmel is a Roman Catholic Church, part of the Archdiocese of Newark, located in the Marion section of Jersey City. In 1905, the parish was originally founded to service the Italian immigrants. Today it serves people of all ethnic backgrounds. Our Lady of Mt. Carmel shares its ministry with St. John the Baptist parish as linked parishes. The parishes have one pastor and share staff and facilities so as to better serve the Jersey City community with the best stewardship of resources.
Stay Informed …
On February 9th, 2020 the Parish Community welcomed their Pastor Father Pedro Repollet.

Es Tiempo de volverse a Dios – únete a Nosotros para una noche con Jorge Rojas on Sábado, Marzo 28, 2020

Bring your CANDLE or purchase one for $5 on February 2nd in honor of the Feast of the Presentation of the Lord.
---
---
---
Asamblea Carismatica Enero 25, 2020 – click this link
Nuestro gran concierto con Pablo Castro en Febrero 22, 2020 – click this link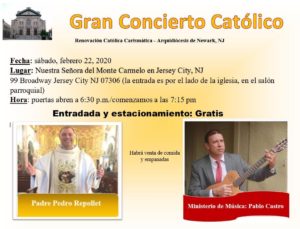 OLMC Fundraiser Raffle 2020 – Rifa para recaudar fondos 2020 – click this link