Welcome to Our Lady of Mount Carmel
Our Lady of Mount Carmel is a Roman Catholic Church, part of the Archdiocese of Newark, located in the Marion section of Jersey City. In 1905, the parish was originally founded to service the Italian immigrants. Today it serves people of all ethnic backgrounds.

---
Welcome to Our Lady of Mount Carmel Parish
We strive to be a vibrant, welcoming and faith-filled community. Guided by the Holy Spirit
and centered on Word and Sacrament, we are called by Baptism to serve as disciples
of Jesus Christ so that all will experience the empowering and healing love of God.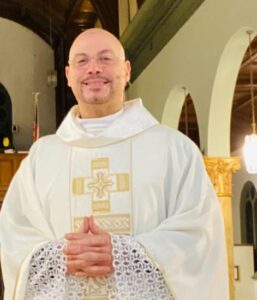 Our Pastor Rev. Pedro Repollet
~~~~~~~~~~~~~~~~~~~~~~~~~~~~~~~~~~~~~~~~~~~~~~~~~~~~~~~~~~~~~~~~~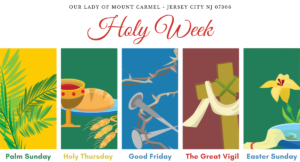 HOLY WEEK MASS SCHEDULE:
March 28, Palm Sunday 9AM (English) & 11AM (Spanish)
Monday, March 29 at 8pm – Livestream Chrism Mass with Cardinal Joseph W. Tobin
April 1, Holy Thursday (Bilingual): Evening Mass of the Lord's Supper at 7:15 PM.
April 2, Good Friday Celebration of the Lord's Passion at 3PM in English Station of the Cross / Celebration of the Lord's Passion / Seven Last Words at 5 PM in Spanish
April 3, Easter Vigil 8PM Bilingual
April 4, Easter Sunday 9AM (English) & 11AM (Spanish)
~~~~~~~~~~~~~~~~~~~~~~~~~~~~~~~~~~~~~~~~~~~~~~~~~~~~~~~~~~~~~~~~~~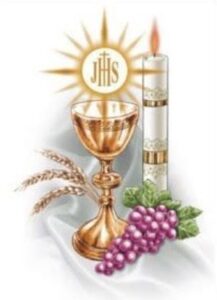 First Communion – 2021:
Jesus' Day Celebration: Saturday, April 24th from 9:30am to 2:30pm

First Reconciliation: Saturday, April 24th We will have a reconciliation service at 12noon

All children doing their First Communion must be present.

First Communion Rehearsal: Saturday, April 24th

We will have rehearsal in church with parents at 1:30 pm

First Communion Friday, April 30th at 7:15 PM Bilingual
~~~~~~~~~~~~~~~~~~~~~~~~~~~~~~~~~~~~~~~~~~~~~~~~~~~~~~~~~~~~~~~~~